Epson SureColor F-2000 DTG Printer
For over three years, Epson dedicated a team of mechanical, chemical, and software engineers to create an all-new imaging technology dedicated for printing directly to garments. This endeavor allowed us to rethink everything and ultimately design a garment printer the way it was meant to be.
Introducing the Epson SureColor F2000 Series
Designed using the latest advancements in performance imaging, like our purpose-built Epson PrecisionCore™TFP® print head, along with our all-new garment ink technology – Epson UltraChrome DG – the SureColor F2000 series will become the new benchmark in high-performance garment imaging.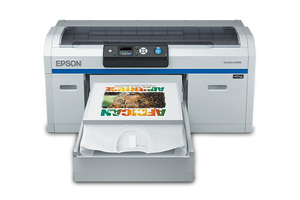 Overview
Revolutionary EPSON PrecisionCore® TFP® Print Head — for extreme print quality and production speeds
Maximum resolution of 1440 x 1440 dpi — for white ink and 1440 x 720 for color inks
Large garment imaging area up to 16″ x 20″
New pigment ink technology — for cellulose-based garment imaging developed internally by Epson
Compatible — with both 100% cotton or cotton synthetic blends to 50/50
Co-developed with the new print head technology — to improve overall reliability
Advanced PrecisionCore TFP Print Head
Epson UltraChrome DG Ink
Maximum Print Resolution:
Up to 1440×1440 dpi for White Ink
Up to 1440×720 dpi for Color Ink
Nozzle Configuration:
8 Channels of 360 Nozzles
6 Ink Cartridge BaysA
---
Replacement Ink Cartridges:
Black T725100
Cyan T725200
Magenta T725300
Yellow T725400
White T725A00
---
Thickness: Garments up to 0.98" Thick
Media Type:
100% Cotton or organic fiber garment recommended
50/50 Cotton/Polyester Blend Compatible
Maximum Print Area:
Maximum Printing Area 16" x 20" (Optional Large Platen)
Supported File Formats:
Tiff and PNG recommended for support of transparency
JPG and BMP
DTG Full Package Solution
For new start ups and for the experienced operators we can complete a package supplying everything needed to ensure your productivity and profitability.
The two most essential pieces of equipment in addition to the printer are a Heat-Press and Pre-Treatment applicator. We are pleased to be able to supply both from "best in the business" suppliers Stahls and Nite.
SpraJet is designed to automatically pretreat garments
before direct garment printing and transfer paper printing.
Sprajet is easy to setup and run.
With unique design and performance, this pre-treating
machine provides the consistent spray essential to quality results..
SpraJet will help to save time and money by increasing
Productivity.
Designed specifically for DTG the Hover-Press does just that,
It's electronic control can be programmed with separate times
and its position will change with each press.
First bringing the heated platen down to a position that is close to
but not in contact with your printed job,
this allows the surface to harden slightly before the full pressure press.
Improving print quality, prevents ink spread / bleeding,
stops garment fibres coming through the print.